Working downtown, I've noticed that eating out for lunch can get a little expensive. But if you go to the right places and refrain from buying a soda, you can keep costs down while still getting good quality food. (I usually grab my lunch and take it back to work where I can get a soda for free.)
The following places are relatively close to the building where I work, the service is moderately quick, and the prices are reasonable.
---
Less than $5
Topping my list is
The Dill Pickle
at 214 W 4th St. This is a true mom-and-pop store, run by a nice Greek family. They have the most unassuming store front in the whole town, as you can see in this picture. But the food is good and the prices very reasonable. I like to tell my friends that this place has the highest quality-to-price ratio downtown. For less than $5, you can get a filling sandwich (with generous meat portions) and french fries. I love how they cook their bacon. They also serve breakfast and southern-type food. On top of that, they're friendly and know who I am.
The only catch - prepare to pay with cash. They would get more business if they accepted plastic, but then the prices would go up. I wouldn't mind paying a few more cents; it would still be a good deal.
Next on my list:
Mooney's Mediterranean Cafe
at 101 W 4th St. Here you can get Greek food at a reasonable price. They are friendly, but usually pretty busy around lunch. The price of a meal usually runs around $6-$8, but on Tuesdays, their falafel pitas are $3, a deal that's hard to beat. They also have good hummus.
If you'd like to eat cheap good quality food in a tall building, you could always eat at the
Upper Deck Deli
at 200 W 2nd St. in the 2nd floor of the BB&T building. Depending on what you get, lunch (without drink) will run from $4 to $7. I usually get a toasted sandwich and french fries. But what I really like about this place are the free mayonnaise packets they let you take. I mix that with the ketchup to make fry sauce. The dining room also gives a nice view of Corpening Plaza. You can even eat out on the deck. Hmmm ... is that where it got its name?
---
A little over $5
Across from the courthouse sits the
Courtside Cafe
at 102 W 3rd St. It's similar to the Dill Pickle, except they accept credit cards and the food is a little more expensive. I love their chicken salad, their philly steak sandwich, and their mashed potatoes. I always get my bread toasted, though it takes longer.
It gets pretty busy around lunchtime, but the line moves quickly. You may even see some red juror badges.
Then comes the only chain restaurant in my list:
Jimmy John's
. I usually like to support the mom-and-pop stores, but I still can't get over how fast these guys are. They even remember me (if the right cashier is there), and they already know what I'm going to order. Then I get my sandwich less than a minute after I pay. The salt and vinegar chips are awesome. They're a little overpriced, but I'd rather pay that much for these chips than I would a bag of Lay's (which I can get cheaper at the store).
Also, I can't resist their annual buyer appreciation day, where some of their sandwiches are $1. The lines are always long for those promotions, but didn't I say they're crazy fast?
---
A little over $7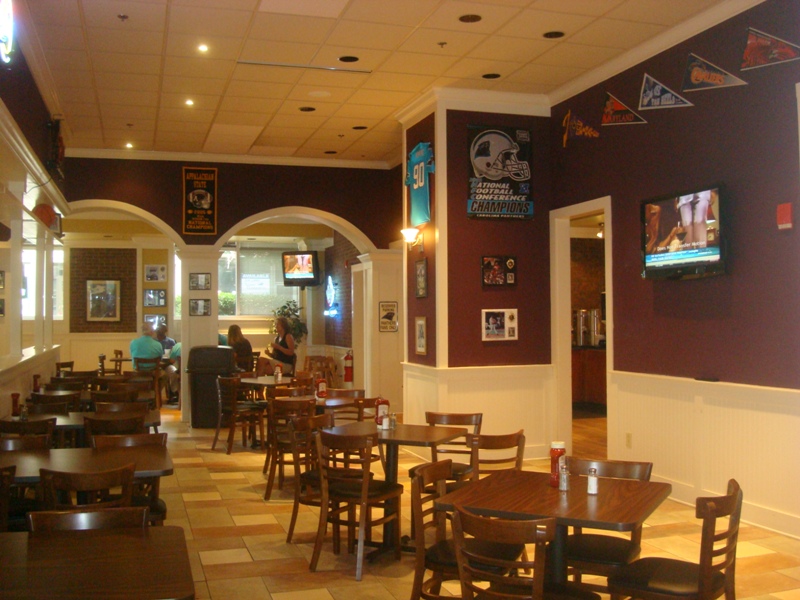 When I feel like spending a little more for better quality food (while keeping under $10), I can go to the
Downtown Deli & Cafe
at 1 W 4th St. I almost always get their turkey reuben sandwich. Their potato salad is good, as are their french fries. The staff is friendly. There's even a guy outside of the kitchen who helps to deliver the orders. The restaurant also displays plenty of vintage sports memorabilia, including an old baseball coin-slot machine.
Ending my list is a relatively new entrant:
Downtown Diamonback
on the first floor of the Park Building at 101 N Cherry St. Since they are new, they aren't as busy as the other places on my list. Their food is good. The prices are around $7. Their chicken salad is wonderful, but the bread makes the sandwich. Their potato salad is also good. When you have money to splurge, grab one of their cookies or other desserts.
---
There you have it: seven relatively cheap, yet good quality restaurants in downtown Winston-Salem. If you're ever in town and happen to be near the courthouse, give one of these places a try.